The Idea
I recently attended a couple of workshops as part of Melbourne Music Week. The first was a small synth building workshop presented by Robert D Jordan, in which we built his Yowler 3 oscillator synth. The second was with VICMOD, and local modular synthesizer group, were members displayed their fantastic setups.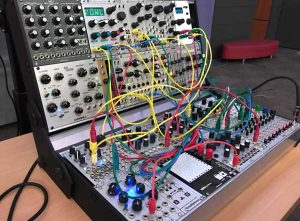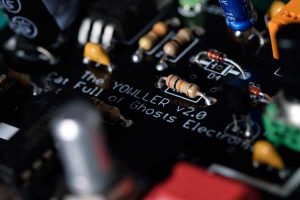 With that inspiration in mind, I thought about how I could accelerate my own modular system, but do it in a way that it had a clear finish line. Also, how could I keep costs down; after all many DIY kits were still expensive.
I had recently completed a couple of small kits; a distortion pedal, Rad-Fi synth, Atari punk kit, and a custom Eurorack mixer (shown right), which is now part of my modest set up.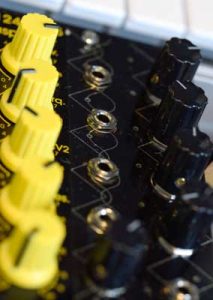 So I decided I would build a fully-modular but fixed synthesizer, roughly 2 x 104HP Eurorack format, with one row of sound generation and shaping, and another row of sequencing and logic. The synth would have common panels for each row so it would have a consistent look, and I would try to push the design as much as is feasible. To keep costs down and allow myself to get some flexible modules, I would try and purchase PCBs from different suppliers, order the parts and build it all myself.
Imagine a Korg MS-20 with the SQ-1 sequencer built-in, with more flexibility, no internal wiring, and more Eurorack type functions which aren't as common to regular subtractive synthesizers.
Why
To design and build an instrument I can use forever and be proud of
To develop my DIY skills, including panel and case design
To have a fun project to work on and share with others
Functional Requirements
This is the general format of the synthesizer, although I will remain flexible.
2 x VCOs and preferably different types
1 x sub oscillator
3 channel mixer for oscillator waveforms
1 x VCF with LPF, preferably with HFP, 12 or 24db
1 x VCA
2 x ADSR Envelopes
2 x LFOs
1 x 8-step sequencer
Clock and logic functions
Optionally:

wave-shaping, distortion, effects
controls such as keyboard, note trigger(s), wheel, joystick etc
some wacky modules which aren't standard synth anatomy
use and sequence two voices independently
MIDI to CV
headphone output
stereo output (if stereo effects are used)

Example: Pitch and mod wheels from the Novation Basstation II
Non-Functional Requirements
6U (2 x 3U) 104HP with sequencer / keys / triggers and logic on the bottom, sound generation at the top (can spill to bottom depending on design)
Power supply
Single front panels for top and bottom rows
Everything must be cheap (between around AU$50 and AU$100 each where possible)
PCBs and parts readily available, but I may make a custom PCB for a mixer module I've already built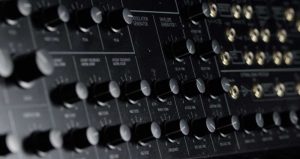 Example: Korg MS-20 semi-modular synthesizer front panel
Module Selection Criteria
Ideally all the PCBs will have demo videos demonstrating the sound and functionality. After all the thing needs to sound good!
Assess the reputation of the manufacturers and modules by looking through forums and seeing if there's common build issues.
Try and mix up manufacturers. It would be easy to get all the Frequency Central modules for example, but mixing things up will provide a more unique outcome.
Modules should function on +/- 12 volts.
Cost
I will aim to build the synthesizer for around AU$1000 to AU$1500. This obviously excludes the many hours I'll spend building it!
Procurement
I'll generally source PCBs and parts from the following outlets initially:
Thonk for PCBs and parts
Modular Addict for PCBs
Other DIY manufacturers such as Befaco, Erica, Random Source
Tayda (electronics parts), cheap pricing and shipping to Australia.
Mouser (electronics parts), greater selection but expensive shipping.
Timeline
End of December 2016 – All systems components, PCBs and parts selected and ordered. Excludes front panels and casing. Any self-designed PCBs (e.g. for mixer) also ordered.
End of January 2016 (I'll be away half the month) – 1/3 of the modules built and tested.
End of February 2016 (I'll be away half the month) – Front panel and casing designed and ordered. 2/3 of the modules built and tested.
End of March 2016 (I'll be away half the month) – All of the modules built and tested.
March 2016 – Build and test the system.
Potential Issues
The PCBs being designed for different potentiometers, and having different spacing etc. To resolve this I may decide to not have the PCBs directly behind the panels, offset them and use wiring looms to the potentiometers and other controls.
Timeline / cost slip – Probably inevitable but it's good to have targets!
The PCBs don't work, even after troubleshooting. The selection process should help mitigate this, but otherwise I'll need to hit up DIY forums in sites such as muffwiggler, gearslutz, electromusic etc.
The unknown. I haven't made any custom panels or cases, let alone do something that looks great, although I do have some design skills. I also haven't completed any self designed PCB layouts which will be needed for the mixer sections. Therefore delays due to a learning curve could be an impact.
Discover more
I'll be blogging about the build here. The next set of posts will all be about selecting the modules. I may also get a facebook group to name the synth once it's complete!
Feel free to join my mailing list, or follow my facebook page to make comments and keep up to date!
You might also like