As part of my DIY modular synth project, I recently selected the oscillators, choosing one VCDO (voltage controlled digital oscillator), the Neutron Sound Orgone Accumulator, and a set of three VCOs (voltage controlled oscillator), the Haible Living VCO,which included a VCA (voltage controlled amplifier).
Currently my project looks like this. The final project will have a custom faceplates per row, and a custom housing. I thought about redoing all the jack and knob layouts to have them evenly spaced etc, but I think the extra work in wiring and testing the modules means this isn't worth effort.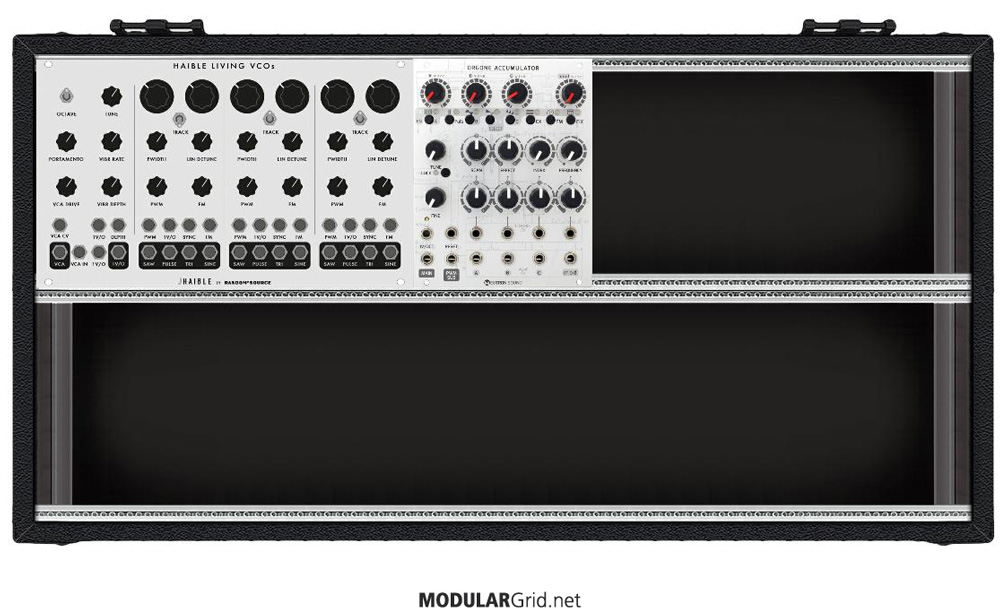 The job of a VCA is to control the volume of the incoming signal such as an oscillator. An oscillator will keep oscillating forever, so rather than having a constant tone, the VCA takes that signal and applies a volume curve to it, called an envelope. The envelope comes into the VCA via a CV (control voltage) input, and the VCA applies the volume curve. The envelope is generator from an EG (envelope generator), and is usually provides attack (initial rise from no volume), decay (an initial decline in volume), sustain (a constant level when the note is held), and release (the amount of time it takes to decline back to no volume).
So VCAs do an important but not the most exciting job. Your also able to manipulate the volume using an envelope to control a filter, so when the filter is fully close the volume output is silent.
The VCA in the Living VCO provides an overdrive feature which is a nice feature found on some VCAs. Apart from that, some may have multiple CV inputs, bias adjustment, and others such as the Intellijel µVCA II will have both linear and exponential response to the envelope.
So my specification was at least one VCA, however given I'd  like to have two signal paths, a second basic VCA is desired. For my second VCA I'm really after something simple and cheap. Also, I want to restrict myself to modules with a shallow depth (aka skiff friendly), in order to design a sleek enclosure.  This means no perpendicular circuit boards, which is common especially given most VCAs are narrow. However some use a second PCB to get around this.
So let's look at some options!
The MST module has a solid set of features, including two VCAs in a single package with linear and exponential responses, bleed control, and the ability to handle DC sources which is useful for affecting control voltages.
The demo below isn't the greatest. Given the sound choices there's some distortion on some parts, but it doesn't sound desirable. Regardless of that the cost is over AU$100, and given I only need a second simple VCA, this doesn't make the shortlist.
Manufacturer link: http://www.synthrotek.com/products/mst-eurorack-modules/mst-dual-2164-vca/
This VCA is based on the legendary ARP 2600 synthesizer, a large semi-modular synthesizer from the 70s which was a big brother to the more famous ARP Odyssey, and is currently in production again via Japanese giants Korg.
The design is different to the MST, in that it has separate inputs for linear and exponential response, each with it's own potentiometer to control the level of the CV. It also includes a handy 2-channel mixer with level controls.
The demo sounds OK, with some nice thud on the bass, but it's just a sound demo.
The cost of the PCBs direct for New England Analog are only US$20 for the 2. It uses SMD components but doesn't look like a difficult build, and all the parts are available from Mouser, Tayda and Erthenvar, all of which I've ordered through before. So this makes the shortlist!
Manufacturer link: http://www.newenglandanalog.com/manage.numo?module=shopping_cart&component=catalog&cid=&pid=53&cid=3
After being disappointed with the demo of their oscillator, I was keen to take a look a the GMSN! Pure VCA. Unfortunately their site is down (so I cannot order) and the only demo I can easily find is the same one as before, so unfortunately this is out.
Update May 2017: They since updated their site and went open source with all their designs. It's now a really great resource for DIYers.
The RYO Optodist isn't just a VCA, and RYO make another very simple triple-VCA. It's an opto distortion module with a VCA and LED based limiter! Therefore it presents a very different option from the VCAs above. It doesn't have linear / exponential modes, yet this can be mitigated by having a flexible envelope generator.
The demo below is quite good, and goes into a lot of the distortion, saturation, limiting and therefore wave-shaping features of the module. What I'm not sure about is the amount of clean signal you can get prior to distortion, however that doesn't appear to be the units main concern. On Modular Grid the module has a rating of 4.2 which is quite good, and the cost is around AU$20 for the PCB.
Overall I quite like the sound of the unit, especially for processing something like the digital Orgone Accumulator which I've selected. This makes the shortlist.
Manufacturer link: http://ljunggrenaudio.com/products/optodist.html
Another different option is the L-1 Tube VCA. Similar to RYO, L-1 also make a multi VCA unit, but for my purposes I'm interested in this tube version rather than the utilitarian version.
Tubes are known for the distortion they introduce when driven into saturation, and a most commonly used on guitar pedals. They also provide an excellent way to "warm" up any sound, and there's one on my Korg SV-1 stage piano, which is used to dirty up the digital samples to good effect.
There's a few varying demos of the on YouTube, and some Soundcloud demos on the manufacturer's link below.  Following is one of the better demos I found.
Overall the unit is a little closer to the Optodist, but with a couple inputs like the ARP VCA. In terms of the distortion sound, my perception is that the tube has a nice effect, but it's too easy to get overly crunchy (as much as you can use this word to express sound).
My feeling is that Optodist is more flexible in the sounds available, and even though the L-1 tube sounds like a excellent unit, for this project I don't need the tube sound (I also have a tube distortion pedal already lying around). So this doesn't make the shortlist.
Manufacturer link: http://l-1.su/TubeVCA.html
The shortlist
Here's what has made it through to the final list:
New England Analog Arp 2600 4019 VCA
RYO Optodist
Quite a few modules weren't considered due to their depth (e.g. MOTM-190), as I'm trying to make the synth as shallow as is practical.
The question really is whether I want a better featured VCA, or the distortion effect. One thing I haven't mention is that the Haible Living VCO's VCA section has a decent overdrive distortion as well, and I'm unsure from some quick research whether the ARP VCA overdrives. The ARP VCA also has tighter spacing, so is less ergonomic, and it's not as well known as the RYO product.
The final selection
This wasn't easy, but I've decided to go with the RYO Optodist. Jump to 10:15 on the video and take a listen to the bass; it sounds amazing and retains the bottom end whilst giving the top a nice fizz. As mentioned I can also see this sounding great on some digital sounds to saturate them a little.
In my next post I'll choose some envelope generators. Stay tuned (if I selected the L-1 I could've said stay tubed dammit!)…
You might also like