Next in my DIY modular synth build, I'll be selecting the LFOs, or low frequency oscillators. These are simply oscillators which can run at lower frequencies under the audible range. A GMSN! Pure LFO for example can run either at 0.1Hz – 41Hz or 39Hz – 1.2kHz. LFOs can be used to modify other modules parameters, such as pitch to generate a vibrato effect, amplitude via a VCA to generate a tremolo effect, PWM to modify pulse width or filter cutoff for wah. LFOs themselves can be put through an envelope in order to gradually bring up the effect. Longer LFOs can be used to create movement in your modular patch over time rather than keeping things static.
I have the following selection criteria:
Two to four independent LFOs.
The modules must be skiff friendly, i.e. not that deep. So no modules where the circuit board is perpendicular to the front panel.
Given the LFOs will be used control / modulation signals, video demos aren't as important.
Preferably multiple waveform outputs or selectable waveforms
Longer non-audible and audio frequencies required.
GMSN! Pure LFO
The GMSN! website was down for a while so their modules weren't considered for the envelope generators (although I will consider this now for envelope generators 3 & 4). However, they recently relaunched and are now open source which is great news! Everything from ordering PCBs to Mouser carts and panel layouts (which I can use for dimensions for my own panel) is provided.
Their LFO is simple. As mentioned the frequency rates are 0.1Hz – 41Hz or 39Hz – 1.2kHz which is decent, although I would prefer longer than 10 seconds for at least one LFO. There's one frequency knob, a switch for long or short range, and sine, triangle and square outputs.
One interesting point is that by ordering PCBs it's just as cheap for 5 or 10, so I could order 10, use 4, and sell the other PCBs or complete units. I estimate the final cost would be around AU$40 per LFO. It's also SMD rather than through-hole and I'm keen for at least one SMD product in my system for practice. This seems like a good simple option.
Manufacturer's link: https://gmsn.co.uk/collections/pure-modular/products/gmsn-pure-lfo
4MS Quad Pingable LFO
At US$185 (for the full kit) this isn't cheap, but you do get 4 LFOs so this remains in contention. Like their envelope, the LFO timing is set by pings, but you can also use a tap-tempo feature to set this by hand. The waveforms can be swept from ramp-down to triangle to ramp-up/saw, and this can be voltage controlled which is great.
As shown in the following demo, the advantage of using a clock to drive this is you can start introducing dividers so the different LFOs can provide different yet in sync timings, which is quite musical. I plan on adding some utilities such as clocks, dividers and multipliers to my system.
Manufacturer's link: http://www.4mspedals.com/qplfo-kit.php
Fontronic TH LFO
This LFO provides pulse, square, sine, and triangle at rates from 0.03Hz (good) to 30Hz (not as good) simultaneously. It runs in four modes, free-running LFO, triggered/delay mode, foot-switch mode, and gated mode. This is definitely more featured than the Pure LFO, however a switch to change the rates to higher frequencies would've been nice; perhaps this is a simple modification.
Link: http://modularaddict.com/fonitronik-thlfo-pcbpanel
NLC Dual LFO
This dual LFO runs from 0.02 Hz to 830Hz and produces simultaneous square and triangle outputs, each of which can be manually controlled via two potentiometers (normal and fine control) and can be inverted. This is a good basic LFO with a decent range. What works against it for me is the fact that the PCB isn't exactly parallel with the front panel (update: I've been advised this is specific to that build and a parallel panel would normally be achieved), and the knobs are too close to each other given the panel space, both of which goes against the OCD in me.
Manufacturer's Link: http://nonlinearcircuits.blogspot.com.au/2015/03/dual-lfo-with-difference-rectifier.html
Maker.IE LFO
A very simple LFO with triangle, sine and square outputs, it ranges from 0.01Hz to 40Hz. Apart from the LED, that's about it! At US$60 for the full kit this seems expensive to me, given it runs only using a couple of cheap and common TL07x op amps. There's supposed to be a PCB / panel option but the link didn't work. A better option could be to product the PCBs myself as the circuit isn't particularly complicated. That way I could easily make four cheaply.
Manufacturer's Link: http://www.maker.ie/eurorack.html
Frequency Central Ultra Wave LFO
This a micro-controller based LFO running of the PIC16F684, and is based on this project from Electric Druid. It can produce eight waveforms including a random sample and hold waveform, although only has waveform output plus a clock out. It also has a clock multiplier and distortion, each with CV, manual control, and a sync input.
It can run at 0.05Hz (20 second cycle) and 12.8Hz, although the multiplier can increase this to 100Hz. It's 30 pounds for the PCB and PIC, comparable to the options here. Certainly more flexible and better value than the Maker kit.
Manufacturer's Link: http://www.frequencycentral.co.uk/?page_id=1359
Noise Reap LFO
After recently selecting their filter, I was keen to see Noise Reap's LFO option. This SMD module provides square and triangle options with inverted outputs. Where it excels is the skew can change the triangle to ramp up/down like the 4ms, and for square waves it varies the pulse width. A switch changes between slow/medium/fast, providing a range from 0.009Hz (almost 2 minutes) up to 100hz. The full SMD kit is US$40 and the PCB/panel option is only US$15 but for the through-hole version.
Manufacturer's Link: http://noisereap.com/?product=lfo_v2
Speed Bump LFO
This is an oddly laid out LFO which is currently unavailable, but worth looking into for it's uniqueness.  It provides square and triangle outputs, but its decay can be manipulated via a vactrol (LED and photo-resistor in combination). How exactly this all works is a bit of a mystery, and there's only a couple of short videos on YouTube. Although this does look interesting, I'm not going to consider this as it isn't clear what it's full capabilities are, but if you were looking for something different in your Eurorack this would be a good option.
Link: http://modularaddict.com/tat-speedbump-pcbpanel
Razmasynth Shibuya LFO
This LFO is an Arduino based LFO with9 waveforms (Sine, Triangle, Ramp Down, Ramp Up, Staircase, Square, Static ADSR, Trig, Random and Noise) and is quite flexible. It has a clock from 0.49Hz to 109Hz, separate clock divider and multiplier outputs, and a start/stop button. This feature set makes it one of the more interesting options. On the downside is the cost at US$70 for a single LFO (comparatively for DIY, built modules are a lot more than this), and I'm unsure whether you could slot in Alpha potentiometers (used on a lot of modules) although it looks like a chance.
Manufacturer's Link: http://www.razmasynth.com/io/Shibuya.html
The Final Selection
This was a tricky decision. Rather than talk through every LFO above again, he's what I liked and didn't like:
LFO times not fast enough: Ok so an LFO is supposed to be slow, but I do like the effect of fast LFO time. My Doepfer Dark Energy for example gets up to 5kHz which is ideal. Anything more than this diminishes the effect.
Nice and slow LFO times: Getting 20 seconds or more is quite good for evolving patches.
Multiple waveforms: Sine, triangle and square as a minimum.
Synchronising LFO with clock: Even though a floating LFO time is fine for most applications, having the ability to lock it into a clock / tempo, especially when multiplied or divided, makes sense. The 4ms pingable LFO is designed for this, and the Wave Runner can sync too.
The digital options (Wave Runner and Shibuya) sacrifice multiple outputs for more waveform options. I have some doubts about digital LFOs for longer times. Could you hear stepping in an 8 or 10-bit LFO running slowly? Probably not, but I can always mix or shape multiple waveform outputs to get the more unique shapes if I choose an analogue LFO.
Taking into account all of the above, the 4ms LFO is close to the top of the list. However, I like the idea of printing my own circuits, and this build is really one big learning exercise. GMSN! going open source provides that, however it's not super slow and could be a little faster. So I decided to pick four modified GMSN! Pure LFOs, and make the LFO times both faster and slower. If I cannot achieve this in a single LFO, I'll make two faster LFOs and two slower LFOs.
In order to validate this option, I decided to build the core oscillator circuit on a breadboard, excluding the sine and the final stage of the square. As you can see from the photos, the oscillator worked and I was able to adjust the times for the LFO. This gives me the confidence to proceed with this option.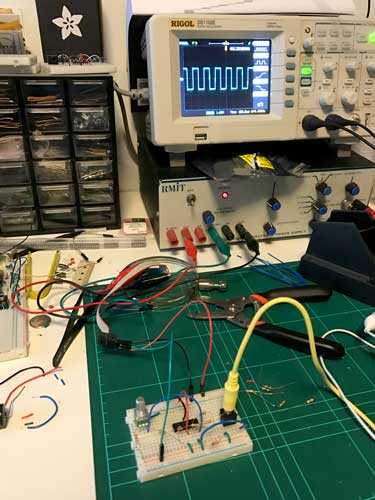 One issue is that I prefer Diptrace to Eagle for schematic drawing and PCB design, and GMSN! are all in Eagle, but I can import or redraw as needed. Another advantage of the build my own option is I can make extra PCBs and put an extra LFO or two in my regular modular step.
Stretch target
What about synching the LFO to a clock? I've decided to try and to this too! If I can integrate the clock with the core oscillator using some logic, and bypass the timing circuit with a switch, then hopefully the clock can set the tempo.
I'll write another post to detail how this process goes. In my next post I'll select the sequencers!
You might also like